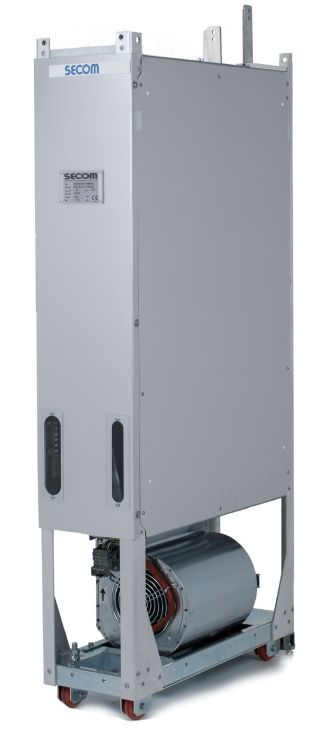 Bidirectional Converters F3E: Catalogue
Bidirectional Converters F3E
The demand for regenerative IGBT "rectifiers" has led to the development of F3E and AFE bidirectional converters with rectifying capabilities and network recovery capacity.
The F3E bidirectional converter is a Fundamental frequency front-end regenerative unit - identified by the SDF code.
It's a regenerative power module solution where the AC/DC converter uses diodes inside the IGBT modules to supply the DC bus, while the IGBTs are used during regenerative operation.
SECOM has created a series of IGBT bidirectionals converters for these specific applications with particular attention to the development of converters in the 100kW-8MW range at 400 and 690Vac.
The main advantages of using F3E regenerative power supplies are:
Economic advantages of a low cost regenerative system
High module power density, thanks to the low module losses.
Further cost reduction of the filter (three-phase inductance), compared to the LCL filter for AFE system
Modular wheeled-mounted system for easy installation and maintenance.
Electrical data
AC line input voltage (Vin)
380V ÷ 480V (± 10%)
500V ÷ 690V (± 10%)
AC line output voltage (Vout) - first harmonic
0 ÷ Vdcp / √2
0 ÷ Vdcp*0.86
DC voltage trip treshold (Vdctrip)
820V per SDx.x.x.x.400
1200V for SDx.x.x.x.690
Input frequency range
45 ÷ 65Hz
Output frequency range
For motor application: 0 ÷ 500 Hz (@5kHz of switching frequency)
Interface DPM power supply
24Vdc @ 1A without analog supply
STO
N.2 channels 24Vdc - 20mA for each channel
Fan power supply
400V; 3AC - 50/60HZ
| Ambient condition | |
| --- | --- |
| Altitude | Up to 2000m a.s.l. without derating (>2000m with derating) |
| Safety functions | |
| --- | --- |
| STO | SIL 3 PL e - Category 3 |
| Mechanical data | |
| --- | --- |
| Vibration stress | EN 60721-3-3 Class 3M1 compliant; EN 60068-2-6 |