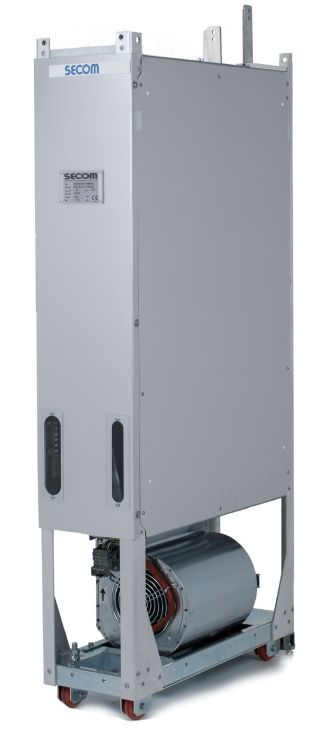 Inverter Systems Electronics and Industrial Applications: Catalogue
Inverter for Industrial Applications and Plants
SECOM has developed its own family of modular Inverter for industrial electronics: SECOMDRIVE.
SECOMDRIVE is an innovative solution for all AC applications for automation or renewable energy lines in which high-power asynchronous motors are used.
Among the various applications of SECOMDRIVE inverters there are also machines, automatisms and industrial motors.
In the field of energy conversion and more specifically in DC/AC application, new technologies and high power IGBT's have allowed the development of industrial inverter with high current switching capabilities.
SECOM has created a series of IGBT power converters for these specific applications with particular attention to the development of converters in the 200kW-6MW range at 400 and 690Vac.
The industrial inverter have been designed for two different voltage ranges: 400Vac and 690Vac three-phase, using IGBTs at 1200V and 1700V.
Starting from the single converter, it is possible to reach higher power (up to 6 MW) by paralleling up to 8 single modules.
SECOM has also created water cooled inverters in order to meet low-noise and higher switching frequency requirments.
SECOMDRIVE line uses modular frequency converters converters suitable to cover various combinations for multidrive systems often called COMMON DC BUS. The control unit developed by Secom allows to control the inverter module by mean of a single fiber optic couple.
The main advantages of using SECOMDRIVE inverters:
High performance
Modular design
High mechanical strength for aggressive condition environments
On-wheels system for simple installation and maintenance
Compact dimensions with high power density
Customizable solutions for every customer need.
Electrical data
AC line input voltage (Vin)
380V ÷ 480V (± 10%)
500V ÷ 690V (± 10%)
AC line output voltage (Vout) - first harmonic
0 ÷ Vdcp / √2
0 ÷ Vdcp*0.86
DC voltage trip treshold (Vdctrip)
820V per SDx.x.x.x.400
1200V for SDx.x.x.x.690
Input frequency range
50/60Hz
Output frequency range
For motor application: 0 ÷ 500 Hz (@5kHz of switching frequency)
Interface DPM power supply
24Vdc @ 1A without analog supply
STO
N.2 channels 24Vdc - 20mA for each channel
Fan power supply
400V; 3AC - 50/60HZ
| Ambient condition | |
| --- | --- |
| Altitude | Up to 2000m a.s.l. without derating (>2000m with derating) |
| Safety functions | |
| --- | --- |
| STO | SIL 3 PL e - Category 3 |
| Mechanical data | |
| --- | --- |
| Vibration stress | EN 60721-3-3 Class 3M1 compliant; EN 60068-2-6 |