SECOM Power Corporate History
Founded in 1975, SECOM is a leading company in the distribution market for power electronics components and devices..
Over the years the company has become an important player active in the field of design and production of equipment for the static energy conversion.
SECOM studies and manufactures customized technical solutions on behalf of its customers. Production excellence and efficient organization allows SECOM to commit itself to providing the market with timely and professional service in numerous sectors of static energy conversion.
Company timeline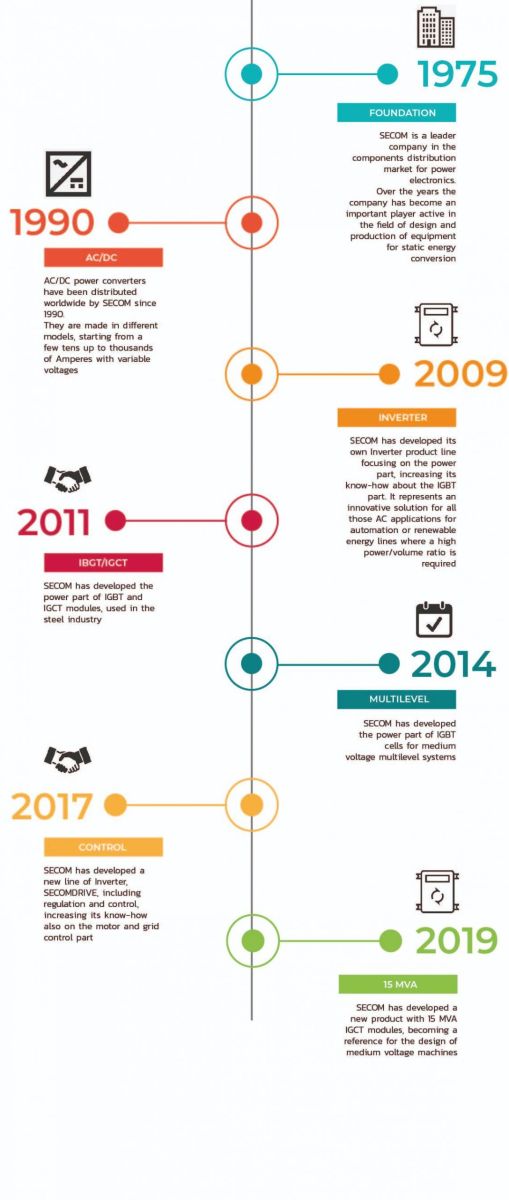 Sponsorships - Asiago Hockey
Asiago Hockey 1935 is a historic ice hockey club, which has played for years in the top Italian championship.

The club was founded in 1935 by Edoardo Carli and in 1947 participated for the first time in the Serie A championship. Over the years, the team has become one of the best national realities in ice hockey, making themselves appreciated also abroad.

The golden ages of Asiago begins with the new millennium: in the 2000/01 season the team wins the very first historical championship, overcoming the Vipers of Milan in the final.
From that day on, six more Championships, one Italian Cup, five Italian Super Cups and one Alps Hockey League have arrived, in addition to the various participations in the Continental Cup (European competition reserved to the winning teams of the various championships), in which Asiago has reached the final three different times.

The Lions, so far, have won the last two national titles and finished second in the last Alps Hockey League edition, won by Olimpija Lubiana.