Three-phase power converter GR19
The GR19 converter series are used for DC motor control application.
These are totally controlled three-phase bridges in unidirectional (non-regenerative) and bidirectional (regenerative) versions.
This product was created to respond to the requests for applications that require high currents and high voltages.
The converter is equipped with protection fuses and snubber filters that work against overvoltages.
To simplify maintenance of the unit, the converter is equipped with handles for extracting the thyristor directly from the stack without having to remove or disassemble the entire module.
Maintenance is therefore simplified and allows any operator without a high level of preparation to extract the thyristor or fuse and replace it.
The voltage range of the GR19 converters ranges from the classic 400Vac to 1250Vac (Vrrm thyristor 4200V). The maximum current that can be delivered from the bridge is 5000A.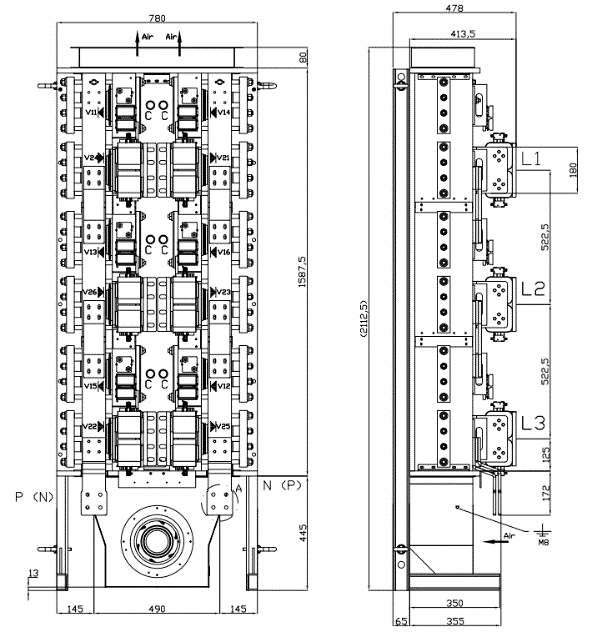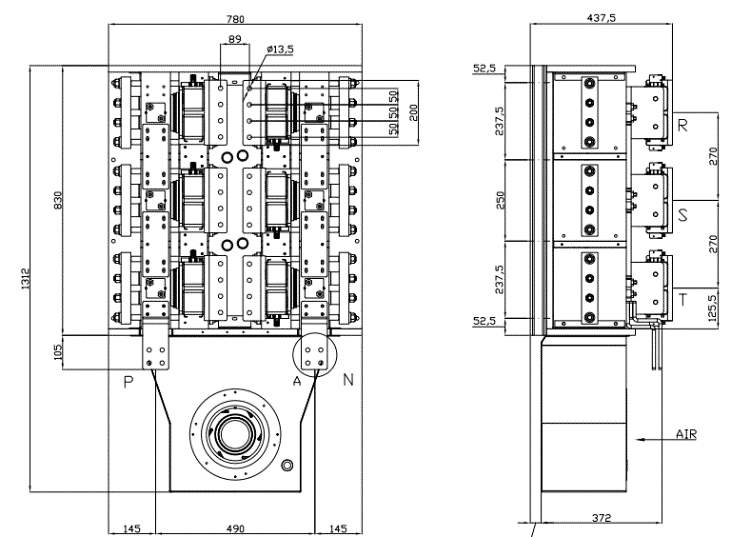 | Ambient condition | |
| --- | --- |
| Altitude | 1000 m. a.s.l. |
Main general data
Converter type
Unidirectional converter
Bidirectional converter
Main supply voltage
500 ÷ 690V
800 ÷ 900V
950 ÷ 1250V
Tolerance
± 10% power supply
Rated current
3500A; 4000A; 4500A; 5000A
Rated frequency
50 and 60 Hz; ± 2%
Insulation voltage
2.5 ÷ 4 kV
Protection degree
IP00 / IP20
Diode/thyristor protections
RC snubber; fuses
Converter protection
Overtemperature; ventilation failure
Auxiliary voltage
3-phase 400 V at 50Hz
Cooling system
Forced air
Installation type
Wall mounting
Dimensions
780*440*1312mm (W*D*H)
780*440*2110mm (W*D*H)
Weight
280 kg unidirectional converter
500 kg bidirectional converter