Power Converter GR6
SECOM has developed an AC/DC power converter called GR6.
It is the answer to the important issue of saving space pertinent to many modern companies. Maintenance activities are also simplified.
The converter covers in a single frame the whole range that ranges from 1000 Amp up to 5000 Amp and from 500 Vac to 850 Vac line voltage.
The GR6 converter has been developed as a standard solution for every size, reducing the need for installation space and at the same time offering an easier replacement with a solution removable on wheels.
The possibility of using a thyristor module as a spare part allows further flexibility in terms of maintenance.
A wide range of input connections can be chosen by the customer, obtaining a perfect distribution of energy inside each electrical cabinet.
The same form can be requested in twelve-phase configuration, in order to have a lower harmonic impact on the network.
Cooling is in forced air with special fans that guarantee adequate performance in industrial environments.
GR6 converters have been developed in three different configurations, using the same frame for each of them: unidirectional (rectifier), bidirectional (DC motors) and regenerative (DC Bus power supply).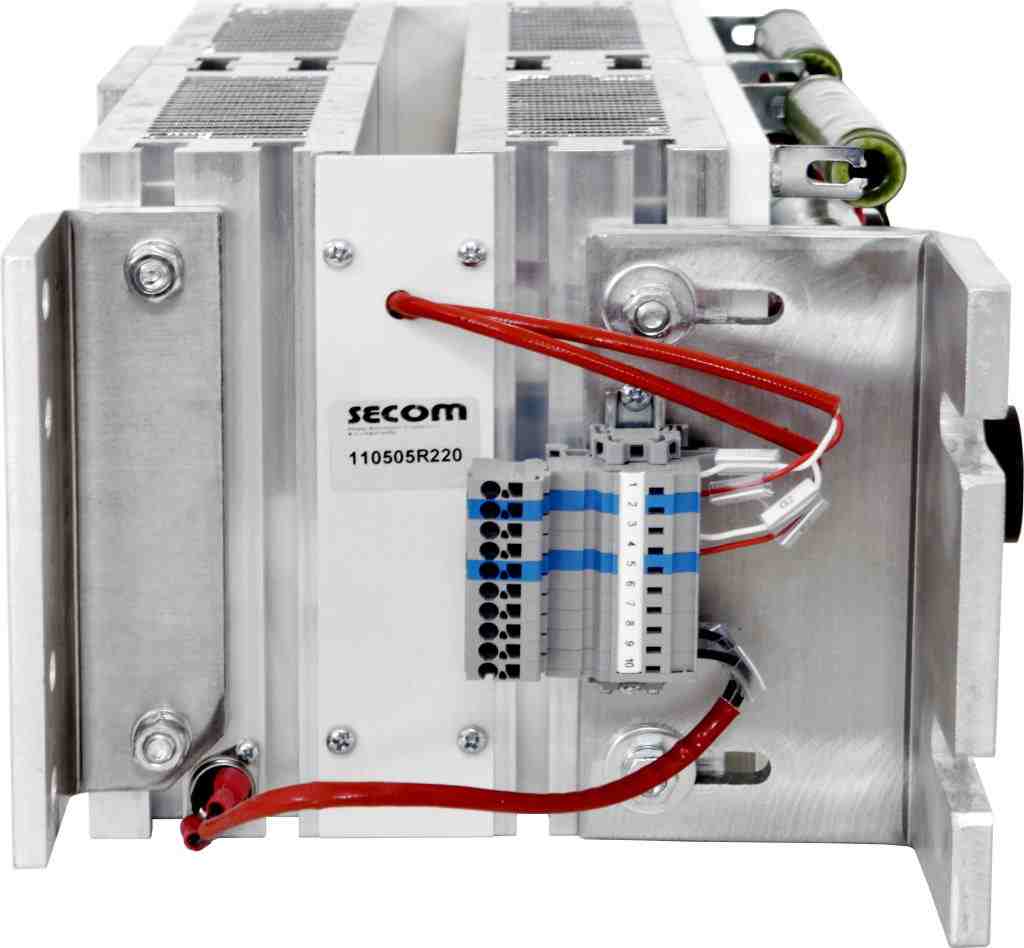 | Ambient condition | |
| --- | --- |
| Altitude | 1000 m. a.s.l. |
Main general data
Converter type
Diode rectifier
Unidirectional DC converter
Bidirectional DC converter
Regenerative DC converter
12-pulse rectifier
Main supply voltage
380 ÷ 480 V
500 ÷ 850 V
Tolerance
± 10% power supply
Rated current
900 ÷ 5000 Adc
Rated frequency
50 and 60 Hz; ± 2%
Insulation voltage
2.5 ÷ 4 kV
Protection degree
IP00 / IP20
Diode/thyristor protections
RC snubber; fuses
Converter protection
Overtemperature; ventilation failure
Auxiliary voltage
3-phase 400 V at 50Hz
Cooling system
Forced air
Installation type
Removable by wheels
Dimensions
320*650*1650mm (W*D*H)
390*650*1650mm (W*D*H)
Weight
150 ÷ 370 kg