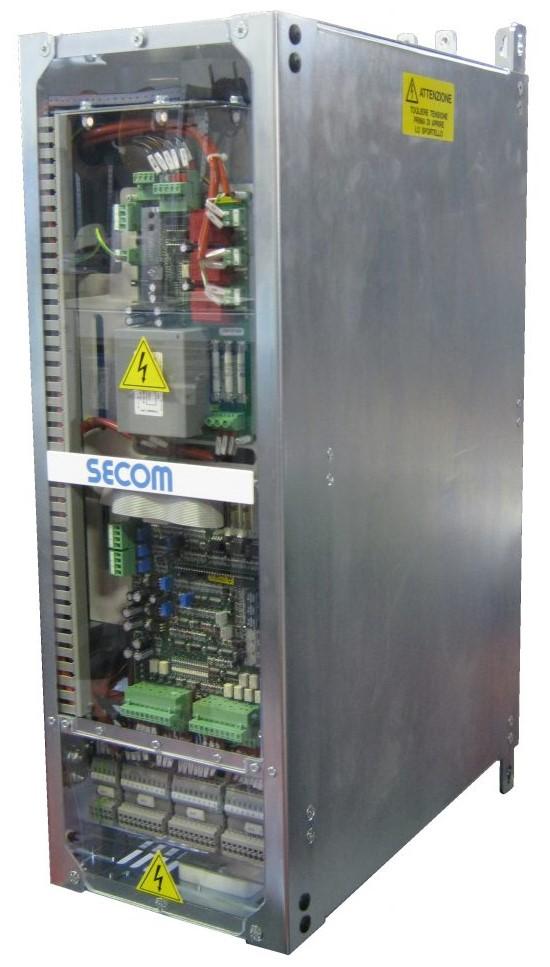 Low Voltage Braking Chopper: Brochure
Low voltage Braking Chopper
Il The braking chopper CHT is designed for applications where large amounts of energy are required to be dissipated from the DC bus. SECOM's available range of CHT brake choppers covers currents ranging from 100A up to 1500A.
CHT units are available in three different mechanical sizes, based on the current required; the mechanical drawings of the various sizes are shown below.

Thanks to the removable mounting bracket present in each unit, the low voltage brake chopper can be mounted in different positions, depending on the available space. Furthermore, the brackets can be positioned in each of the four corners of the unit and, consequently, mounted in the direction of the width or lenght, as desired.
The air intake of the cooling fan is located at the bottom of the unit; it is important to remember that the air should be clean as there is no filter.
The enclosure design of the CHT unit ensures that there are sufficient openings for proper airflow.
A periodic maintenance is required, in order to check and prevent blockage of the ventilation grille and provide for correct ventilation in the cabinet where the CHT is installed.
| Ambient condition | |
| --- | --- |
| Altitude | 1000 m. a.s.l. |
| Dimensions and weight | |
| --- | --- |
| Height | 550/725/1398 mm |
| Electrical data | |
| --- | --- |
| Semiconductors | IGBT |